We've considered the ethical dilemmas and how human rights goes wrong, and now it's time to look at what can we do to better manage human rights risks. What is human rights best practice?
Human rights definition
First, each organization will need to define human rights. For some, including those within the jurisdiction of the Australian and UK Modern Slavery Acts, there is some guidance and specificity. Even then, we increasingly see organizations define human rights and modern slavery broadly. This is driven by a mix of shifting organizational awareness of human rights, ethical consumerism, sustainability pressures from stakeholders, and media and NGO reporting of violations and violators. This includes increased scrutiny of organizational compliance, for example, the Modern Slavery Registry.
What might be a broad definition? The United Nations is a good place to start, defining human rights as:
… rights inherent to all human beings, regardless of race, sex, nationality, ethnicity, language, religion, or any other status. Human rights include the right to life and liberty, freedom from slavery and torture, freedom of opinion and expression, the right to work and education, and many more. Everyone is entitled to these rights, without discrimination.

United Nations
You can quickly see that this definition spans areas including harassment, discrimination, and freedom of association. Given the emerging willingness to discuss and tackle discrimination and harassment, including the #MeToo movement, it makes sense to define human rights broadly.
In our experience organizations that fail to properly address discrimination and harassment invariably experience a raft of other problems, from fraud to corruption to human rights violations. For those inflicting suffering on colleagues, the absence of robust deterrents can embolden them to commit other crimes, usually focused on gaining an advantage (financial, power, etc.). For those on the receiving end, the abuse can provide a rationalization to defraud an organization that has failed them, or a lack of incentives and trust to speak-up about other ethical failures being perpetrated by colleagues.
In short, define human rights broadly to ensure you're taking the issues seriously and reducing the likelihood of other ethical problems.
Human rights exposure
Now you've defined human rights, you need to consider your exposure. By "your" we mean your direct exposure and that of your supply chain. The latter can be an eye-opening and challenging exercise. Consider the components (products and services) that your organization requires, from the crucial to the administrative.
If you need some help, resources including The Modern Slavery Index often do reports on particular products (usually) that are prone to human rights abuses. From our experience, some sectors that experience direct exposure would include:
Resources (oil, gas, and mining)
Agriculture (including aquaculture and fisheries)
Infrastructure
Manufacturing (including garments)
Information, communication, and technology
Business process outsourcing
Institutional investors
The last three may not seem immediately obvious, but ICT deals with censorship, reporting on users to authorities, data that can be exploited by bad actors, content moderation (which can include truly disturbing material), and more. BPO, in particular, 'call centers', can include harsh working conditions, and investors are the finance for most corporate activity (and therefore can face exposure across the multiple industries they're funding).
This list is illustrative, and not exhaustive, and you will need to consider where your supply chain inputs come from, who provides them, and how they source their inputs.
What not to do
Not knowing is no longer an acceptable defense. Passing all responsibility to those in your supply chain is also not an acceptable defense.
If you do find, or suspect, issues in your supply chain, try not to:
Act hastily. Even if well-intentioned this can have adverse effects for those you're trying to protect.
Expect your supplier to resolve alone. Often your suppliers are smaller than you and lack your resources.
Try and conceal the issue. Or hope it will go away.
Expect local authorities to deal with the issue. Sadly law enforcement may lack the capacity or capabilities to investigate properly and/or they may be complicit.
What to do
Luckily there is a lot of guidance out there, for example, that from the UN and the Organisation for Economic Co-operation and Development, including the OECD Responsible Business Conduct guidelines.
A blog is not going to provide an exhaustive list, but some of the key pieces of best practice we'd suggest you consider include: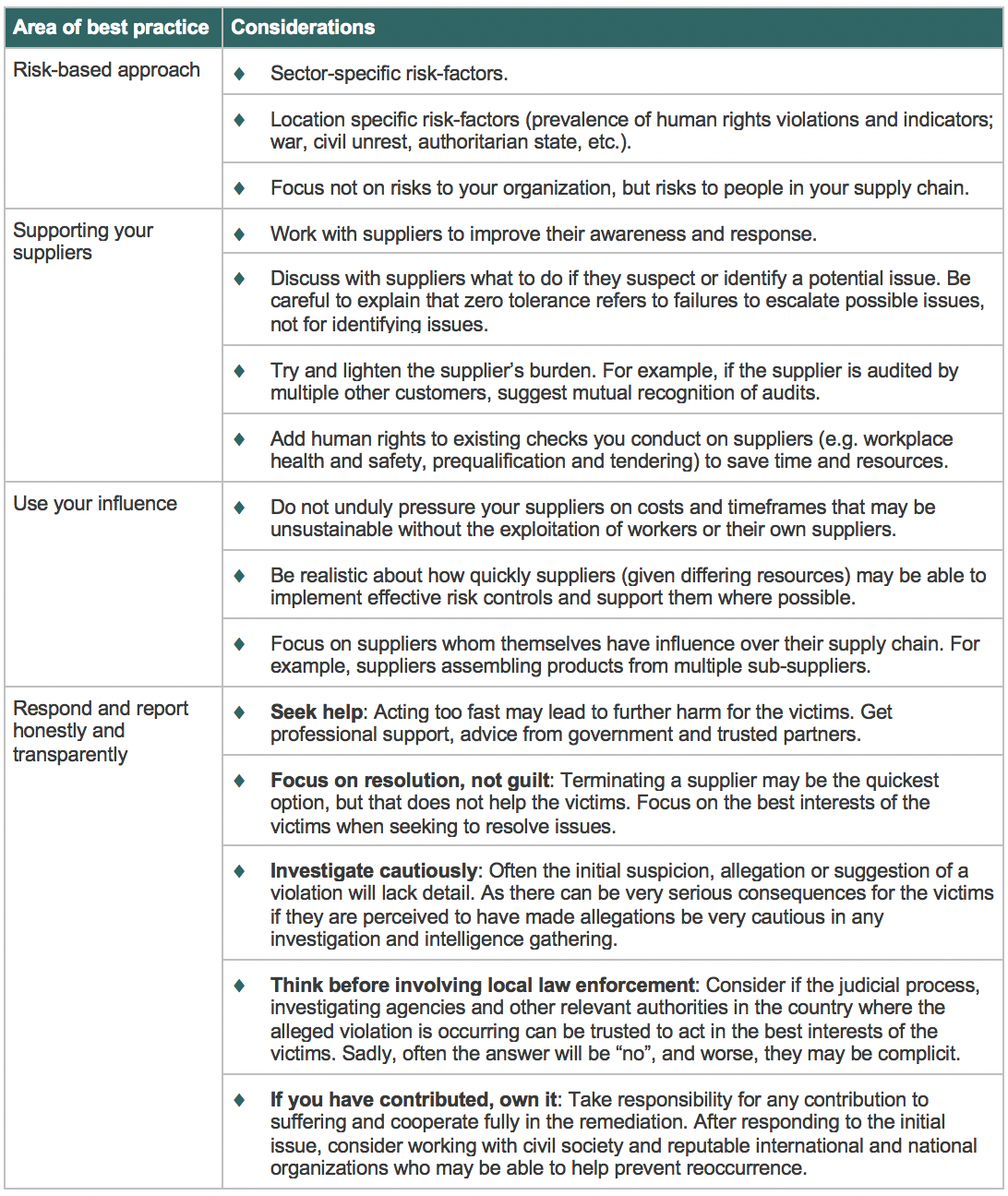 Human rights best practice summary checklist
Decide how you define human rights
Determine where you (and your supply chain may be exposed)
Avoid passing ownership of risks onto others, don't act too hastily, don't pass blame or conceal.
Take a risk-based approach, support your suppliers, respond and report honestly.